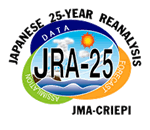 Japanese 25-year ReAnalysis (JRA-25) and JMA Climate Data Assimilation System (JCDAS)
Last updated: February 2014
The Japan Meteorological Agency (JMA) and the Central Research Institute of Electric Power Industry (CRIEPI) conducted the Japanese 25-year Reanalysis (JRA-25) project to produce a climate dataset for the period from 1979 to 2004.
JMA also continued the production on a near real-time basis using the same data assimilation system as used for JRA-25, called the JMA Climate Data Assimilation System (JCDAS), to monitor the present state of climate.
The provision of these data was terminated in February 2014.
JRA-25

History

JCDAS



Available Elements (same as JRA-25)

Links
---
Climate Prediction Division, Global Environment and Marine Department, Japan Meteorological Agency


Legal Notice